Abacus Hemp Strain Review
Abacus Hemp Strain is one of those marijuana strains that looks great whether it is in a bag, jar, out in the open, or closeup.
An Indica dominant CBD heavy strain (Indica is one of the two main sub-types of marijuana along with Sativa.
CBD is one of the major psychoactive components of marijuana along with the better-known THC.
Abacus Hemp Flower is grown by the breeders at Green Acorns Farm in Mendocino California.
Growing this quality strain is a result of breeders cross-breeding two other strains Pebble OG and Alien Sour Apple.
The result is a bud that looks as great as it smokes.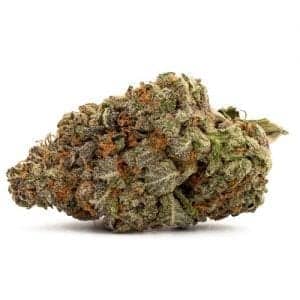 Although quite popular the Abacus strain has only been available for a brief time.
It is quite new becoming available for the first time in 2017.
Each batch may vary slightly. Abacus batches when tested, measured  0.2 and 0.3% THC / 14-20% CBD.
This is a great strain for those who are looking for a primarily CBD-based strain, which can be quite difficult to find.
Abacus Hemp Strain Smell, and Taste
A sense pleasing strain, the Abacus flower both looks, smells, and tastes great
Boasting an appealing dark green color and small patches of orange hairs (sometimes purple!).
The trichomes of the flower provide a coating over the bud which provides a shiny, look to the flower.
The deeply aromatic Abacus's smell can be surprising to those who are not around marijuana, a  skunk smell invades the nostrils when held up close.
This strain has a distinct earthy flavor which is slight but not overpowering smokey flavor.
In the terpene-rich strain, Abacus's flavor, and odor have a high concentration of terpene which impacts the flower in slight ways.
Contributing to the strain's commonly applauded aftertaste.
GENETICS
As mentioned in the first paragraph Abacus is a result of a cross-breeding between two well-known strains– Pebble OG and Alien Sour Apple.
Abacus has a solid genetic background that is rich in history and is conducive to the balanced profile, and flavor of the newly created Abacus hemp strain.
A long growing process has to lead to a flower that is tolerant of both extreme heat and cold.
It is also tolerant of potential pests and problems including bugs, mildew, and mold.
The breeders at Green Acorns are growing high-quality, organic, and safe marijuana.
The conditions under which a strain like Abacus is bred are very detailed and controlled.
Each measure and process is codified and deduced down into a science.
Due to its resistance to tough weather and the ability to endure a harsh climate Abacus is a wonderful strain.
It can be grown practically anywhere including the East Coast, with no specialty hydroponic equipment, or California sunshine required.
Abacus Hemp Strain